Archive for June 30th, 2014
Comments Off
June 30th, 2014 Posted 6:25 am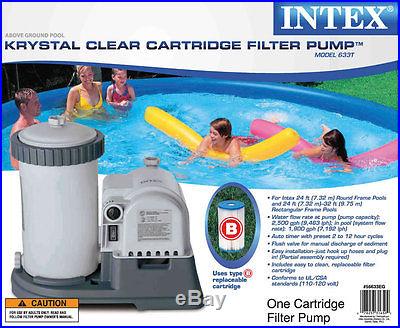 Intex krystal clear 2,500 gallon pool filter pump 28633eg description. The intex 2,500 gph filter pump provides efficient pool filtration for intex 16 to 32 foot pools and is essential for krystal clear pool water. Who wants to swim in dirty pool water? A built-in 24 hour timer will make pool maintenance a breeze. Simple preset your pool filter to one of the 2 to 12 hour filtering cycles and your pool will automatically clean itself every day at the same time.
You'll have super clean pool water even while you are away on vacation! Installation of the intex model 633 / 634t filter is easy, just hook-up the hoses, plug it in and go. All the hoses and clamps needed to install the intex 2,500 gallon filter pump to your pool are included as well as one pre-installed type b filter cartridge.
This high volume 1/2 hp pool filter pumps 2,500 gallons of water per hour which will provide fast filtration for all large intex pools with 1-1/2 inch filter hoses with threaded connections. Fits intex 18 foot easy set pools, 18 – 24 foot metal frame pools, 20 x 12 foot or larger oval frame pools, and all intex ultra frame round and rectangular pools. This filter pump is a perfect replacement for the 1,500 gph filter pump because it will filter your pool in half the time. Add a case (6 pack) of type b filter cartridges and you'll have enough replacement filters for the whole summer.
Intex 2500 gallon filter pump. Specs of intex model 633 / 634t pool filter pump 28633eg – krystal clear 2500 gph filter pump. Intex krystal clear filter pump model 633 /634t.
High volume 1/2 hp motor pumps 2,500 gallons of water an hour. Includes built-in timer – automatically cleans your pool everyday plus you'll save energy and extend filter pump life. Includes all hoses and clamps need to install to your pool with 1.5 inch hose fittings.
Fits all intex ultra frame round and rectangular pools. Fits all intex easy set and metal frame pools 18 feet or larger.
Perfect replacement pump for the 1,500 gph filter pump where an upgrade to a larger pump would make pool filtering faster. Easy installation just hook-up hoses, plug it in and go. Includes all hoses and clamps needed to install to your pool. Includes 1 pre-installed type b filter cartridge. Optional upgrade – six replacement type b filter cartridges.
Air release valve for air trapped inside filter chamber. Sediment flush valve at bottom of filter chamber. Includes gfci breaker (ground fault circuit interrupter) that quickly shuts off the electricity to prevent electrical shocks. Replacement pump for intex krystal clear models 51, 520, 520r, 58621, 56631 and 56633. How often do i have to replace the filter cartridge on the 2500 pool filter pump?


Depending on usage and water conditions, it is recommended that the cartridges be replaced at a minimum of 2 week intervals. The filter cartridge should be removed and checked at least once a week. It can be partially cleaned by rinsing off with a garden hose and brush. If it still appears to be dirty, it should be replaced immediately. Can i use another brand of cartridge? A brand other than intex may not fit correctly, thereby not filtering the water properly. What is the life of the 2500 pool filter pump? Estimated filter pump life is approximately 2,000 hours, which is about 3 summer seasons of normal usage.
What is your suggestion on 2500 pool filter pump maintenance? Occasionally, petroleum jelly may be applied to the "o-ring" located underneath the top filter cover to minimize seal cracking. Check hoses for leaks and replace if needed. Also make sure you've cleaned or replaced filter cartridges as recommended in the owners manual. Can we use the pool while the 2500 pool filter pump is operating? No, due to various local, state, national and international standards, the filter pump is not to be operating if pool is in use and/or occupied, although it is safe and has complied with ul, csa, etl, and en safety standards. View more frequently asked questions. Ups cannot deliver to those addresses.

About us: who is porter-10. Our customer service team also helps to quickly answer any of your questions or concerns you might have.

The item "Brand New Intex 2500 gph Filter Pump & hoses for Above Ground Swimming Pools" is in sale since Tuesday, July 30, 2013. This item is in the category "Home & Garden\Yard, Garden & Outdoor Living\Pools & Spas\Pool Parts & Maintenance\Pool Filters". The seller is "foxwebstores" and is located in Boise, Idaho. This item can only be shipped to United States.
Comments Off
June 30th, 2014 Posted 5:25 am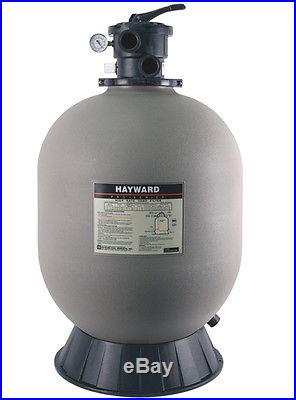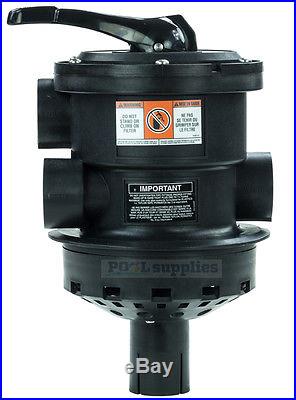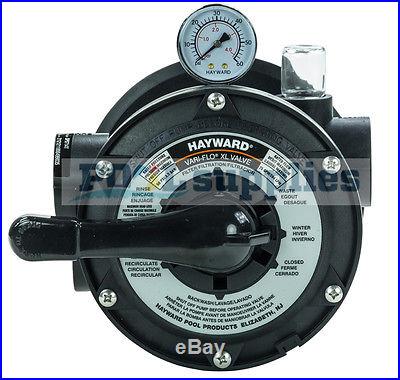 Product for the poolsupplies lineup. Hayward s180t pro-series above ground swimming pool sand filter & sp0714t valve. (when you call please reference source code l14ydpg).

Hayward pro series s180t top mount sand filter, valve & base only. The pro series filter features an integral top diffuser that evenly distributes unfiltered water over the sand media bed in a cascading, umbrella-like pattern.
This allows the greatest filtration possible from every square inch of sand. Then the self-cleaning underdrain assembly, with its 360° slotted laterals, provides a fast, balanced flow of clear water back to the pool while allowing for more thorough backwashing. Best of all, the pro's full-flow technology reduces your energy costs because the filter operates for shorter periods. Seven-position valve puts you in control. The patented, multiport control valve developed by hayward was designed with seven pool filter positions. An easy-to-use lever-action handle lets you quickly dial any function. You can easily access the pro series filter assembly for simple servicing via the unique folding ball joint in the laterals. A corrosion-proof housing protects the filter from severe weather for years to come. Pro series sand systems are designed and equipped to offer the ideal combination of energy efficiency and outstanding water clarity. A broad selection of filter sizes, pumps, and accessories allows you to choose and merchandise the system(s) that best suit your above-ground pool program. Above ground / on ground, small in-ground, aquarium (salt or fresh water) pools & ponds. Filtration area: 1.75 square feet. Flow rate: 35 gallons per minute (gpm). Turnover (gallons) 8 hours: 16,800 gallons. Turnover (gallons) 10 hours: 21,000 gallons. Max filter capacity: 150 pounds of sand. Systems are designed for quick assembly and precise alignment of components. Pumps and filters are performance-matched to provide maximum flow and energy efficiency.
Flange clamp design allows 360 degree rotation for easy installation. Integral top diffuser ensures even distribution of water over the entire sand bed for maximum use of the filtration area. Durable, corrosion-proof filter tank molded of colorfast material for long-lasting, all-weather performance.
7-position hayward permaglass xl vari-flo valve complete with integral sight glass and pressure gauge and provide maximum flow at lower pressure drop. Large pressure sand/water drain for rapid winterizing or servicing. Precision engineered umbrella-fold self cleaning laterals for balanced flow and backwashing, plus easy serviceability. Use only high rate sand, no.
1/2 silica sand (0.45mm 0.55mm). Our experienced staff can assist in walking you through the checkout process. If you do not want an item left at your doorstep, the best thing to do is leave a note on your door with instructions for the driver. A copy of your invoice and order # should be included, and your return should be insured. A damage claim will be filed on your behalf and we will replace the item immediately once the claim is approved.
Contact our customer service department and an immediate replacement order will be prepared for you. In certain cases, we may require pictures, and or a sample of the defective item. These items cannot be returned to the merchant. Monday – sunday 6:00am – 9:00pm est.
The item "Hayward S180T Pro-Series Above Ground Swimming Pool Sand Filter & SP0714T Valve" is in sale since Monday, June 03, 2013. This item is in the category "Home & Garden\Yard, Garden & Outdoor Living\Pools & Spas\Pool Parts & Maintenance\Pool Filters". The seller is "poolsupplies" and is located in Tonawanda, New York. This item can only be shipped to United States.

Brand: Hayward
Model: ProSeries Sand Filter
MPN: S180T
Application: Above Ground Pools
How Many lbs of Sand Required: 150 lbs
UPC: 610377056113