SmartPool ChlorEase CL01 Above Ground Pool Salt Water Chlorinator Generator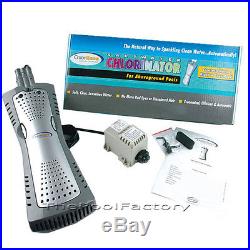 Chlorease saltwater chlorinator for above ground pools. Swim in soft, silky water that you produce and say "goodbye" to red eyes, skin irritation, and harsh chemical odors with chloreaset. It's 100% pure, trouble-free chlorine that is produced naturally and automatically. By adding a mild salt solution to your pool, chloreaset charges the salt ions in the water and produces chlorine. The salt solution in your pool is undetectable and at a much lower level than that of human tears. Chloreaset is always on and producing a low level of chlorine as long as the unit is plugged in. The unit is completely safe and runs on any 110v gfi-protected outlet. It is easy to install on new or existing above-ground pools and it is simple to take apart when the ionization plates need cleaning. Chloreaset is affordably priced and comes with 28-feet of cord and its own low voltage transformer. Fire hazards associated with the storage of dry packaged chlorine are eliminated, as are any risks of potential contact with these chemicals by young children. And the days of forgetting to add chlorine to the pool become a thing of the past. Many common water chemistry problems are the result of insufficient sanitization. Helps keep a consistent free chlorine residual (1-3 ppm), your water is less likely to experience problems associated with periods of very high or low chlorine levels, such as algae growth or bather discomfort. Additionally, salt has a softening effect, just like a water softener, so hair and skin feels soft and silky rather than dry and brittle as with packaged chlorine. No red eyes, itchy skin or chlorine odors. In pools sanitized with liquid or dry chlorine, the residue buildup (chloramines) from the oxidized contaminants may cause red eyes, itchy skin or rashes, and " a chlorine smell". In these pools, chloramines must be destroyed by superchlorination or shocking. Pool, as water flows through the unit, it is constantly shocked because of the powerful sanitizing action that occurs in the electrolytic cell. With chloramines constantly being destroyed, the irritating side effects are greatly reduced or eliminated. Chlorine stabilizer prevents chlorine from being destroyed too quickly by the sun. When using stabilized chlorine (such as trichlor tablets or sticks), stabilizer levels increase over time and chlorine becomes less effective. Pool gives you control over stabilizer levels since you add it as needed. Controlled stabilizer levels, together with. Consistent chlorine levels, make water chemistry easier to maintain. After the initial cost of the. Aside from the initial startup, salt is only added to replace what is lost due to splash out, backwashing, pump out or draining, making the additional salt expense about $10-20 yearly. And, depending on climate and usage conditions, cells can last up to 5 years, and can be replaced. The only other cost is for electricity and that is very modest. Salt is a safe and natural chemical. Recycles salt over and over so there are no by-product wastes added to the environment. Affordably priced for the aboveground pool owner. No red eyes, bleached hair, or irritated skin. Dramatically improves water quality. Automatically and continuously produces chlorine. Easily installs on new and existing pools no plumbing required. Can be used with all chemicals used in chlorine-maintained pools. Treats aboveground pools up to 18,000 gallons. Uses any 110v gfi-protected outlet. Etl listed to ul 1081.The item "SmartPool ChlorEase CL01 Above Ground Pool Salt Water Chlorinator Generator" is in sale since Thursday, May 22, 2014. This item is in the category "Home & Garden\Yard, Garden & Outdoor Living\Pools & Spas\Pool Parts & Maintenance\Pool Filters". The seller is "poolfactoryny" and is located in Brooklyn, New York. This item can be shipped to United States.
Brand: SMARTPOOL, SMART POOL
Model: Chlorease
MPN: CL01
Sanitizer Type: Chlorine Generator
Pool Type: Above Ground Pool
Tags: chlorease, chlorinator, cl01, generator, ground, pool, salt, smartpool, water
This entry was posted on Tuesday, April 14th, 2015 at 5:09 am and is filed under smartpool. You can follow any responses to this entry through the RSS 2.0 feed. Both comments and pings are currently closed.