Archive for June 16th, 2015
Comments Off
June 16th, 2015 Posted 9:27 pm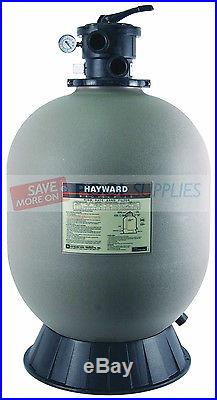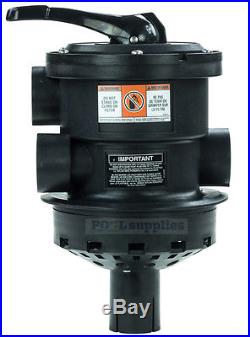 Product for the PoolSupplies lineup. Hayward S210T Pro-Series Above Ground Swimming Pool Sand Filter & SP0714T Valve. (when you call please reference source code L14YDPG). Hayward Pro Series S210T Top Mount Sand Filter, Valve & Base – The Pro Series filter features an integral top diffuser that evenly distributes unfiltered water over the sand media bed in a cascading, umbrella-like pattern. This allows the greatest filtration possible from every square inch of sand. Then the self-cleaning underdrain assembly, with its 360° slotted laterals, provides a fast, balanced flow of clear water back to the pool while allowing for more thorough backwashing. Best of all, the Pro's full-flow technology reduces your energy costs because the filter operates for shorter periods. Seven-position valve puts you in control. The patented, multiport control valve developed by Hayward was designed with seven pool filter positions. An easy-to-use lever-action handle lets you quickly dial any function. You can easily access the Pro Series filter assembly for simple servicing via the unique folding ball joint in the laterals. A corrosion-proof housing protects the filter from severe weather for years to come. Pro Series sand systems are designed and equipped to offer the ideal combination of energy efficiency and outstanding water clarity. A broad selection of filter sizes, pumps, and accessories allows you to choose and merchandise the system(s) that best suit your above-ground pool program. Application: Above Ground / On Ground, Small In-Ground, Aquarium (salt or fresh water) Pools & Ponds Performance Data: Filtration Area: 2.20 Square Feet Flow Rate: 44 Gallons Per Minute (GPM) Turnover (Gallons) 8 Hours: 21,120 gallons Turnover (Gallons) 10 Hours: 26,400 gallons Max Filter Capacity: 200 Pounds of Sand Model: S210T Features. Systems are designed for quick assembly and precise alignment of components. Pumps and filters are performance-matched to provide maximum flow and energy efficiency. Flange Clamp design allows 360 degree rotation for easy Installation. Integral top diffuser ensures even distribution of Water over the entire Sand Bed for maximum use of the Filtration area. Durable, corrosion-proof Filter Tank molded of colorfast material for long-lasting, all-weather performance. 7-Position Hayward PermaGlass XL Vari-Flo Valve complete with integral Sight Glass and Pressure Gauge and provide maximum flow at lower pressure drop. Large pressure Sand/Water Drain for rapid winterizing or servicing. Precision engineered Umbrella-fold self cleaning laterals for balanced flow and backwashing, plus easy serviceability. Use only High Rate Sand, No. 1/2 Silica Sand (0.45mm 0.55mm). Our experienced staff can assist in walking you through the checkout process. If you do not want an item left at your doorstep, the best thing to do is leave a note on your door with instructions for the driver. A copy of your invoice and Order # should be included, and your Return should be insured. A damage claim will be filed on your behalf and we will replace the item immediately once the claim is approved. Contact our customer service department and an immediate replacement order will be prepared for you. There are product categories which are not returnable, due to hygienic, sanitary, or other reasons, as required by the respective Manufacturers. In certain cases, we may require pictures, and or a sample of the defective item. The item "Hayward S210T Pro-Series Above Ground Swimming Pool Sand Filter & SP0714T Valve" is in sale since Saturday, June 15, 2013. This item is in the category "Home & Garden\Yard, Garden & Outdoor Living\Pools & Spas\Pool Parts & Maintenance\Pool Filters". The seller is "savemoreonpoolsupplies" and is located in Tonawanda, New York. This item can be shipped to United States.
Brand: Hayward
Model: ProSeries Sand Filter
MPN: S210T
Application: Above Ground Pools
How Many lbs of Sand Required: 200 lbs
Comments Off
June 16th, 2015 Posted 1:22 pm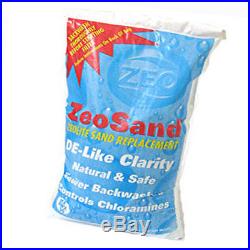 Spas & Hot Tubs. ZEOSAND ZEOLITE SAND ALTERNATIVE FOR SAND FILTERS – 50 LBS. All natural ZeoSand weighs half as much as its volume in sand yet is twice as effective! The crystal structure, irregular shell, and high surface area make it a highly effective trap for fine particulates and ammonium ions compared to sand. It takes less Zeosand to fill a filter – 50 pounds (dependent upon filter) of ZeoSand replaces 100 pounds of sand and makes a far more effective filter media. ZeoSand improves your sand filters performance by trapping more dirt and particles decreasing back wash time. ZeoSand removes eye-burning chloramines so you can enjoy superior water quality while saving energy and reducing chemical usage! ZeoSand acts as a molecular sieve that catches the smallest irritating ammonia ions and reduces chloramines in the water that cause eye irritation and chlorine odor. ZeoSand filter media granules feature a larger surface area and a significantly greater internal porosity than silica sand. ZeoSand filter media will significantly enhance the filtration capabilities of your swimming pool sand filter, providing you with remarkably clean water. ZeoSand filter media uses a naturally occurring mineral to provide superior filtration results. While silica sand granules feature relatively smooth surfaces and do not have any internal porosity, ZeoSand filter media granules feature microscopic pockets and voids which allow the media to trap fine debris particles, much finer than those trapped by ordinary sand. Commonly used in residential swimming pools, country clubs amusement park pools, public aquariums and filtration plants. One 50 lb bag of ZeoSand is the equivalent to 100 lbs of sand. Weighs Less, So You Use Less ZeoSand weighs half as much as an equal volume of sand. Imagine the sand grain as a marble and the zeolite grain as a sponge. The density of a sponge (zeolite in ZeoSand) is much less than the density of the same-size marble (sand), but the volume of space occupied by each is equal. Because the sponge is less dense, it weighs less than the marble. This relates to bulk density the weight of a specified volume of material divided by the volume occupied by that material. ZeoSand has a lower bulk density than sand. It takes less zeolite (by weight) to fill a filter. Thus, 25 to 30 pounds (dependent upon filter) of ZeoSand replaces 50 pounds of sand and makes a far more effective filter media. Saves Water and Energy. Natural and Environmentally Safe. Customers who have shopped with us before can tell you – Specialty Pool Products offers the finest, most innovative and most effective items for your pool, spa, backyard and home. We only sell products that meet our strict standards for quality, function and value. And there's more… Specialty Pool Products also promises you. We are unable to make changes or cancellations to orders after they are placed. At SPP, your satisfaction is always our primary concern. Ready to order, need help or have questions? During peak times our response may be delayed as we do receive hundreds of emails daily. If you are in need of immediate assistance please call, our reps are available during the hours shown above on our banner. We hold ourselves to the highest standards and value the trust you place in us. We pledge not to share this information with other organizations for commercial purposes. Specialty Pool Products does not rent or sell its customer list. The item "ZEOSAND Zeolite Swimming Pool Filter Sand Alternative Media 50 lbs" is in sale since Thursday, March 05, 2015. This item is in the category "Home & Garden\Yard, Garden & Outdoor Living\Pools & Spas\Pool Parts & Maintenance\Pool Filters". The seller is "poolproducts.com" and is located in United States. This item can be shipped to United States.
Comments Off
June 16th, 2015 Posted 5:17 am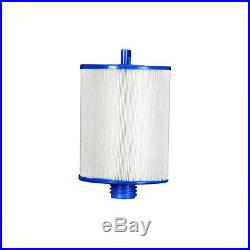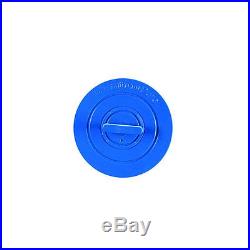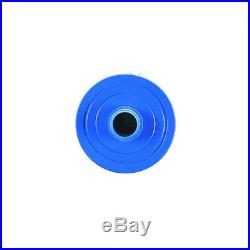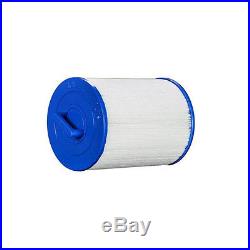 Filter Cartridge for Waterway Front Access Skimmer. SKU: PWW50P3 Condition: New. Pool/Spa Part – Pleatco – Filter Cartridge 40 sq ft, 6″ Diameter, 7-5/8″ Long – PWW50P3. Pleatco Filter Cartridges Part Number: PWW50P3. Catalog Part Number: 4902-076. See Owner's Manual for details. Trusted by Pool and Spa Owners Since 2006. PoolSupplyWorld has been serving customers as a pool and spa resource since 2006. We believe that prompt, courteous communication is one of our best qualities, and we're always looking for new ways to make shopping with us an easier, more convenient experience. Customer Service – You can reach us in one of three ways. Get help from one of our helpful support representatives at 800.772.0467. Send us a message. We have relationships with the most popular manufacturers in the industry. We carry over 50,000 products. More than a Pool Store! We want to help you. We value building long term relationships. We want you to count on us. We accept verified U. Boxes or APO/FPO addresses. The free listing tool. The item "Waterway Front Skimmer Replacement Filter Cartridge PWW50P3 FC-0359 6CH-940″ is in sale since Thursday, February 27, 2014. This item is in the category "Home & Garden\Yard, Garden & Outdoor Living\Pools & Spas\Pool Parts & Maintenance\Pool Filters". The seller is "poolsupplyworld" and is located in Sunny. This item can be shipped to United States.