ZEOSAND Zeolite Swimming Pool Filter Sand Alternative Media 50 lbs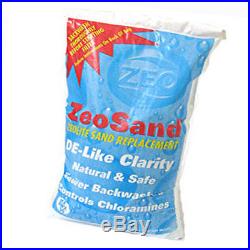 Spas & Hot Tubs. ZEOSAND ZEOLITE SAND ALTERNATIVE FOR SAND FILTERS – 50 LBS. All natural ZeoSand weighs half as much as its volume in sand yet is twice as effective! The crystal structure, irregular shell, and high surface area make it a highly effective trap for fine particulates and ammonium ions compared to sand. It takes less Zeosand to fill a filter – 50 pounds (dependent upon filter) of ZeoSand replaces 100 pounds of sand and makes a far more effective filter media. ZeoSand improves your sand filters performance by trapping more dirt and particles decreasing back wash time. ZeoSand removes eye-burning chloramines so you can enjoy superior water quality while saving energy and reducing chemical usage! ZeoSand acts as a molecular sieve that catches the smallest irritating ammonia ions and reduces chloramines in the water that cause eye irritation and chlorine odor. ZeoSand filter media granules feature a larger surface area and a significantly greater internal porosity than silica sand. ZeoSand filter media will significantly enhance the filtration capabilities of your swimming pool sand filter, providing you with remarkably clean water. ZeoSand filter media uses a naturally occurring mineral to provide superior filtration results. While silica sand granules feature relatively smooth surfaces and do not have any internal porosity, ZeoSand filter media granules feature microscopic pockets and voids which allow the media to trap fine debris particles, much finer than those trapped by ordinary sand. Commonly used in residential swimming pools, country clubs amusement park pools, public aquariums and filtration plants. One 50 lb bag of ZeoSand is the equivalent to 100 lbs of sand. Weighs Less, So You Use Less ZeoSand weighs half as much as an equal volume of sand. Imagine the sand grain as a marble and the zeolite grain as a sponge. The density of a sponge (zeolite in ZeoSand) is much less than the density of the same-size marble (sand), but the volume of space occupied by each is equal. Because the sponge is less dense, it weighs less than the marble. This relates to bulk density the weight of a specified volume of material divided by the volume occupied by that material. ZeoSand has a lower bulk density than sand. It takes less zeolite (by weight) to fill a filter. Thus, 25 to 30 pounds (dependent upon filter) of ZeoSand replaces 50 pounds of sand and makes a far more effective filter media. Saves Water and Energy. Natural and Environmentally Safe. Customers who have shopped with us before can tell you – Specialty Pool Products offers the finest, most innovative and most effective items for your pool, spa, backyard and home. We only sell products that meet our strict standards for quality, function and value. And there's more… Specialty Pool Products also promises you. We are unable to make changes or cancellations to orders after they are placed. At SPP, your satisfaction is always our primary concern. Ready to order, need help or have questions? During peak times our response may be delayed as we do receive hundreds of emails daily. If you are in need of immediate assistance please call, our reps are available during the hours shown above on our banner. We hold ourselves to the highest standards and value the trust you place in us. We pledge not to share this information with other organizations for commercial purposes. Specialty Pool Products does not rent or sell its customer list. The item "ZEOSAND Zeolite Swimming Pool Filter Sand Alternative Media 50 lbs" is in sale since Thursday, March 05, 2015. This item is in the category "Home & Garden\Yard, Garden & Outdoor Living\Pools & Spas\Pool Parts & Maintenance\Pool Filters". The seller is "poolproducts.com" and is located in United States. This item can be shipped to United States.
Tags: alternative, filter, media, pool, sand, swimming, zeolite, zeosand
This entry was posted on Tuesday, June 16th, 2015 at 1:22 pm and is filed under zeosand. You can follow any responses to this entry through the RSS 2.0 feed. Both comments and pings are currently closed.