Archive for January 13th, 2020
Comments Off
January 13th, 2020 Posted 11:47 pm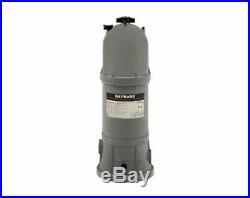 Hayward W3C500 Star Clear Filter. Star-Clear Cartridge Filters Hayward Star-Clear cartridge filters provide crystal clear water and have extra cleaning capacity to accommodate pools and spas of all types and sizes. For replacement or new pool installations, Star-Clear sets the standard of excellence and value. Applications In-ground pools In-ground pool/spa combinations In-ground, in-deck or moveable spas Hot tubs Above-ground pools Features Single locking knob securely fastens head to filter tank, eliminating bolts or clamps Attractive, durable filter head may be rotated to conveniently position pressure gauge and manual air relief Injection-molded filter tank for dependable, corrosion-free performance Extra-large cartridge element with new precision engineered extruded core provides extra-strength and maximum flow Elevated, filtered water collector and debris sump prevents accidental by-pass of heavy debris to pool or spa when cartridge is removed for cleaning 1 1/2″ or 2″ FIP, or 2″ SKT connections for plumbing versatility 1/2″ FIP filter drain for fast draining for elevated spas and tubs. Also accepts standard spigot valve Performance Data–Residential Turnover (In Gallons) Model Number Effective Filtration Area Design Flow Rate 8 Hours 10 Hours C250 25 ft. 2 25 GPM 12,000 15,000 C500 50 ft. 2 50 GPM 24,000 30,000 Performance Data–Public Turnover (In Gallons) Model Number Effective Filtration Area Design Flow Rate 8 Hours 10 Hours C250 25 ft. 2 9 GPM 4,500 5,625 C500 50 ft. 2 18 GPM 9,000 11,250 Product Notes Public Design Flow Rate based on. 2 Determined by pump size and piping system hydraulics. 2 piping is recommended for flow rates above 90 GPM. Technical Specifications Micro Star-Clear Cartridge Filters Model Number Effective Filtration Area Pipe Size Dimensions Width Height Ctn. Weight C225 25 ft. ² 1 ½ FIP 17 ¼ 17 7/8 1 7 lbs. Cartridge filters for in-line piping, including spas, hot tubs and above-ground pools. Star-Clear Model Number Effective Filtration Area Pipe Size Dimensions Width Height Ctn. Weight C250 25 ft. ² 1 1/2 FIP 10 ½ 19 ½ 1 13 lbs. ² 1 1/2 x FIP 10 ½ 29 ½ 1 17 lbs. Tracking numbers will be emailed to you as soon as they are available. Special Notes For International Orders. RETURN INSTRUCTIONS AND EXCEPTIONS. Please refer to you Owner's Manual for the manufacture's Customer Service telephone number. The item "Hayward W3C500 Star Clear Filter" is in sale since Thursday, June 6, 2019. This item is in the category "Home & Garden\Yard, Garden & Outdoor Living\Pools & Spas\Pool Equipment & Parts\Pool Filters". The seller is "one-source-pool" and is located in New Port Richey, Florida. This item can be shipped worldwide.
UPC: 610377020435
Model: C500
California Prop 65 Warning: Warning: Cancer and Reproductive Harm-Www.P65warnings.CA.Gov
Custom Bundle: No
Pool Type: In-Ground
Type: Filter Cartridge
Material: Reinforced Polyester
MPN: C500
Comments Off
January 13th, 2020 Posted 3:46 pm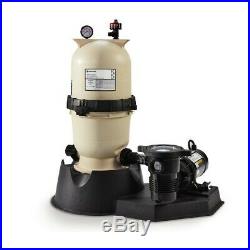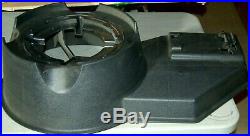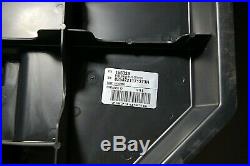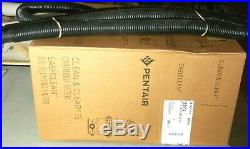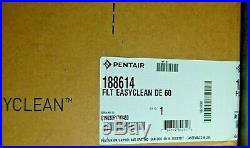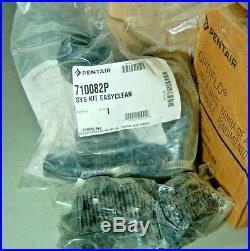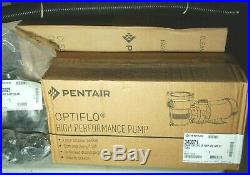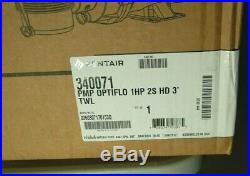 Pentair PNEC0060OF2260 30 Sq. Filter System with 1 HP Pump. Includes all parts: Filter, Pump, Hoses, Stand and Wheels, and EasyClean connect kit. Please see my feedback – Great products at great prices! EasyClean above ground cartridge D. Removable cartridge style D. Element for quick, convenient cleaning. Media during off cycle and start-up. Filter lock ring allows for quick and easy servicing. Measures 24-1/2-inch length by 35-inch height by 25-1/4-inch width. Filter to create this high performance system for above ground pools. Rugged, efficient and simple to operate. High flow manual air relief valve and continuous internal air relief work together to eliminate air accumulation and maintain optimum filtration efficiency. Tank measures 15-1/2-inch diameter by 25-1/2-inch height. 15-square feet effective filtration area and 6-feet hose kit. Comes with 3-feet twist lock cord. The item "Pentair PNEC0060OE2260 30 Sq. Ft. EasyClean D. E. Filter System with 1 HP Pump" is in sale since Friday, August 16, 2019. This item is in the category "Home & Garden\Yard, Garden & Outdoor Living\Pools & Spas\Pool Equipment & Parts\Pool Filters". The seller is "kilroy5267″ and is located in Cincinnati, Ohio. This item can be shipped to United States.
Type: DE Filter System
MPN: PNEC0060OE2260
Brand: Pentair
Comments Off
January 13th, 2020 Posted 7:45 am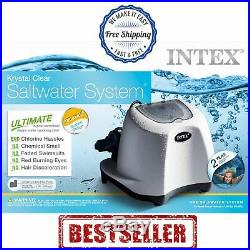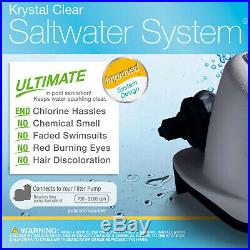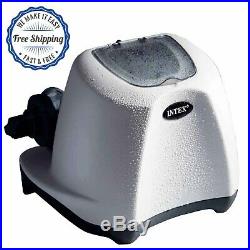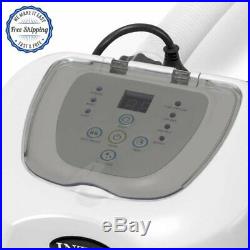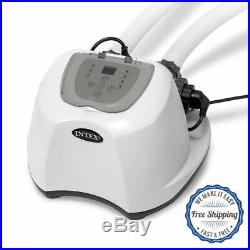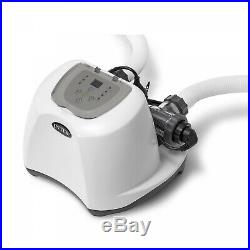 Intex 120V Krystal Clear Saltwater System Swimming Pool Chlorinator Heavy Duty. Krystal Clear Saltwater System for Above-Ground Pools up to 7,000 Gallons. Chlorine output: 5 gallons per hour. Max pool size: 7,000 gallons. 3 self-clean modes: 6, 10, and 14-hour cycles with 24-hour timer. Provides sanitized and sparkling, chemical-free pool water. Replace dangerous, packaged chlorine with safe, natural, environmentally friendly, pure salt. No more red eyes or adversely affected hair, swimsuits or pool liners. Redesigned control panel with display, easy access buttons and added power button for convenience. Sleek and compact casing. Intex Saltwater system designed for use with above-ground pools. Krystal Clear Saltwater System with E. (Electrocatalytic Oxidation) for up to 7000-Gallon Above Ground Pools, 110-120V with GFCI. Help keep pool water clean, soft and refreshing with the Intex Krystal Clear Saltwater System for Above-Ground Pools up to 7,000 Gallons. Its unique 2-stage technology uses an ECO (electrocatalytic oxidation) process in which water molecules are split into highly powerful oxidants to destroy organic contaminants, such as bacteria and algae. The Intex saltwater system effectively reduces amount of natural chlorine generated, for cleaner water without the potential harsh side effects of packaged pool chemicals, replacing chorine with environmentally-friendly, natural, pure salt. It requires a filter pump with a flow rate between 700-3,000 GPH and is designed for use with a maximum pool size of 7,000 gallons. The above-ground swimming pool saltwater system is simple to install and operate, with easy-access buttons for effortless ongoing pool maintenance. Titanium electrolytic cell uses environmentally friendly natural salt to create natural chlorine. Soft, fresh, clean water without the potential harsh side effects of packaged pool chemicals. Electro catalytic oxidation splits water molecules into highly powerful oxidants that destroy organic contaminants such as bacteria and algae. Capacity: 7,000 gallon. Voltage: 110-120 volts with GFCI. Chlorine output: 12 gallons per hour. Maximum pool size: 7,000 gallons. Features: Self-cleaning, auto-clock cycle. Assembled Product Dimensions (L x W x H). 16.75 x 13.75 x 11.50 Inches. Glad to switch over to salt water pool. You still need to use your other chemicals to balance your pool but no more chlorine! It was easy to set up, and keeps the pool crystal clear. Awesome and so easy to use. We run the filter 6 hours a day and salt generator 4 hours for our 5,000 gallon pool. Needed 3 bags of salt to get it to the right level of salt. We used Morton professional pool salt. Set up was very easy. My 12x24x56 above ground intex pool took 3 50 lbs salt bags to get the system started up properly. Simplification of installation is perfect for anyone. Gets the job done at a very inexpensive price. We moved out of state and had to store it for 8 years, hooked it up and only last 2 weeks. Hoping the new one last longer that the old one, so far it's working great. The system came in two days as stated and it was very simple to install. It has been about two weeks and it seems to be maintaining my pool quite well. The water is nice and clear and has no chlorine smell. I feel I made a good choice purchasing this salt water system. Salt water Pool System. So far it works great!! We've only had for a week or so. Works great so far! So far it's working out great. Haven't had any issues with it was very easy to install. Loving not having to worry about chemicals! Workes perfect with our 16×32 Intex Ultra Frame Pool. I love not having to worry about chemicals!! Water is always crystal clear! Salt water pools are the way to go! Much better than the previous version. It is doing the job!! I like that you don't have to add shock to water. Great salt water system. So far works great. This is the third Intex salt water system I have had over the past 10 years and they all have worked great. So far so good. Only been a week but so far so good : loving not having to smell chlorine! I got a 18×48 intex pool and got the 15,000 gal salt system. Good quality at a reasonable price. Works perfectly without any issues. Installed this on my 18 foot x 48′ Coleman Power Steel Swim Vista Series 2 pool and I love it! Installation was very easy and took longer to level the ground than to assemble the pool. When water got to half way point I put 80 lbs of salt in by throwing it by hand instead of pouring it into piles. I started pump and ran it for 24 hours before turning the Krystal Clear Saltwater System on and it has been working fine for over a week now! New saltwater system with new design. I have not had it long but it seems to work very well and the new design looks very good. As an added treat the price was slightly cheaper. I had one similare to this for six years and it was great. I like this new unit better because it is taller and easier to see the panel on top. Very happy with this product. Arrived earlier than expected, will integrate with my pump, haven't set it up yet but looks like it will work well. Extremely simple to install since we already had an Intex sand filter. It is very easy to use. It took my pool from green to crystal clear in 4 days. The biggest plus for me is no hazardous chemicals. Useful for Inground Pools Also. I plumbed the SWG into my inground pool system using standard 2′ pvc fittings. Cutting the existing PVC plumbing and attaching union joints and working around the required inlet and outlet sides is a bit tedious but definitely worth it. I plumbed the SWG into my inground pool system using standard 2??? This device seems more hardy then the previous one that I had. It did say high salt when my readings showed that my salt was ok. With this item time will tell…… Seems to work fine but pool store tested water sample and told me salt level very low although the system did not indicate so. Added the salt per pool store, everything ok. One day here recent system indicated salt too high. Layer high salt code no longer on. Not sure what's going on. Awesome product, would highly recommend to anyone! Creates chlorine out of salt! The smell and sanitation of chlorine without the burning of the eyes and dry skin. Everybody should use this. Way better than chemicals. Works really well, great addition is the timer. I use this in a 7200 gallon pool and run it 6 hours a day. This is my 3rd Intex Salt Filter and as an older person, I appreciate the larger screen. So much easier to read and control than the previous models. Keeps my pool crystal clear and I'm not concerned with chlorine bleaching my bathing suit or burning my eyes. Easier to assemble than their previous models, also. We like the ease of use. No problems so far, we have used this product before we have used 3 of them in the last 6 years one was struck by lightening or we would still be using it. Does everything it claims to do!!!! Absolutely love the self cleaning feature… I have always had Intex salt systems… BUT THIS ONE IS BY FAR THE BEST!!! Intex Salt water filter. The water is crystal clear. Also got It at a great price with 2 yr. So far so good! At first it was hard to get the salt level in the pool correct. We put the recommended amount of salt into the pool after filling the pool for the first time, and checked the salt with a Clorox test strip. It was showing the salt level on the high side, but still less than the recommended max of 3500 ppm. We tried running the swg, but it kept flashing the error code and light for high salt. We drained some water off, refilled the pool, the salt level had dropped lower, about 3200 ppm, but the age still would not run, flashing the high salt code. We drained some more, refilled, retested, and level per the rest strip was now 3100 ppm. But we still got the high salt error again. I finally drained off more today, refilled, and have not checked the salt level with a strip, but I turned on the swg and (crossing fingers) it is working. I'm wondering if the factory has them set to fire a high salt error whenever you get over the ideal level of 3000 ppm?? Gave it only 4 stars for being finicky, but if it continues to work it will be a great value. This is my second Intex Chlorinator. First one lasted 4 years…. Hooked this one up and works perfect. Levels came right up. This saltwater system is just as explained in the description. Easy to set up. The instruction manual could get a little confusing at times, but the instructional video that was included was a big help. Love the new design. Great replacement for my old one of 4 years. Salt Water Great No Chlorine needed. Works great once I got the salt levels balanced. Easy hook up to sand filter that came with 18×52 Intex pool. I have previous versions that worked. This one seems to be even better. With earlier versions I would have to clean them almost daily because of calcium buildup. This one has been running for a week and I haven't had to clean it yet. Intex Krystal Clear Saltwater System for AGP's. Good price and is compatible with other Intex products i. Intex salt water pool. So far so good have a 5000 pool and is doing great. New Pool Salt Generator. I have had a generator for years, I really like this new model with new features and a little more compact. Had another brand and it didn't tell you whether the salt level was high or low, salt level indicator light lit up when attention was needed. This pump tells which it is, high or low. Great quality for the price and works with my sand pump. It was easier to set up than expected. It was HOT when we made the decision to go ahead and set the pool up and it took 3-4 hours because it was HOT! Once up, it took about 4 hours to fill. Once filled, the kids have enjoyed! We made it a salt water pool by adding another pump and thus far, there have not been any issues. Have had the pool up for two weeks without any issues. Had the smaller intex and was pleased with it. Have a 16000 gal pool so this one should be very adquiet to do the job. Had it for a week and it is doing great job. This is it's second season using it. And I absolutely, love , love, love this my pool stays crystal clear all season with just salt.. My neighbors that use chemicals are totally jealous they said there pool has never been as clear as mine. Love that I don't have to dump bleach in my pool! Just plugged it in today, seems to be working great. Will update review after using it for the summer. System seems to be fairly easy to navigate. We opened the pool this year after draining it down to just below the intake for the winter. I had put 2 gallon of shock in a week prior to taking the cover off. It was very cloudy with a little algae in it. We have used a salt water system for 6 years prior. In 2 days the water was clear with no added chlorine or algaecide. And upgraded to a sand filter pump that has the capacity of approximately 3000 GPH. Was fairly easy to attach them (pool, sand pump & system) all together. Being that our pool came with a 1500 GPH cartridge filter pump the hoses fit perfectly without needing adapters. We have hard water so I do find that we have to clean the cells in the system weekly. Best pool pump love the saltwater in the pool simple to use. Our top priority is customer service. Please be sure to read the description thoroughly to make sure that this is the item you want before making a purchasing decision. We make every effort possible to accurately describe and depict the items. Please be aware that slight variations in color may be due to differences in lighting and computer monitor resolutions. Thank you for shopping with us, we appreciate your business! An adult signature will be required. Please be sure to have available help on hand to assist you with moving the item to the desired location in or outside of your home. Only factory defects are accepted as a reason for a return. In the case of factory defects, if available, we will replace the product for you. When returning an item, it must be in all of the original packaging and include all of the original accessories or items that came with it. The item and package should be in original and perfect condition. We do our best to process your return as quickly as possible. Orders are processed immediately and dispatched to fulfillment as soon as they are received. For this reason, we are typically unable to honor cancellation requests. If the order has gone too far through the fulfillment process, we will be unable to cancel. The item "Intex Krystal Clear Saltwater System for Above-Ground Pools up to 7,000 Gallons" is in sale since Wednesday, August 21, 2019. This item is in the category "Home & Garden\Yard, Garden & Outdoor Living\Pools & Spas\Pool Equipment & Parts\Pool Filters". The seller is "vibrantaging" and is located in Various Locations. This item can be shipped to United States.
Modified Item: No
Style: Modern
Brand: Intex
Model: 26667EG
Custom Bundle: No
Pool Type: Above-Ground
Type: Salt Water System
Material: Plastic
MPN: 26667EG