Posts Tagged 'brand'
Comments Off
December 4th, 2014 Posted 2:04 pm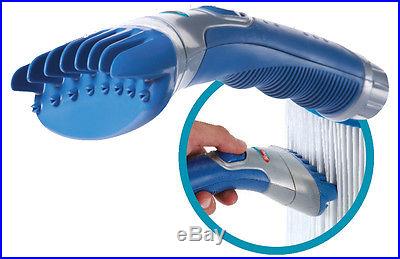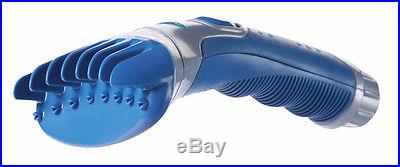 Water-wand hand held cartridge filter cleaner. Unique, world-first hand-held cartridge filter cleaner.
Makes cartridge cleaning quick and easy. This patent pending device drastically reduces the time, effort and mess involved in cleaning cartridges. Eight fingers and 8 fan nozzles open and clean 8 pleats at one time. Improved on/off switch & hose connection.
At last a cartridge ? Lter cleaning device that takes the time, hassle and mess out of cartridge ?
It cleans in minutes! How the product works. Ngers (pleat separators) are inserted into the cartridge to open eight pleats at a time in one simple action. Eight 180 degree fan nozzles are located at the base of each pleat separator.
These nozzles spray a radius of water to then ? Ush and clean both sides of each pleat in one easy downward motion. Water-wand is operated off a standard garden hose and features on/off control at the hand grip. Multiple pleat separators and fan nozzles for faster cleaning, spray back guard, rubberized hand grip for comfort, on/off control, "threaded" or "quick connect" garden hose attachment options, rugged polymer construction.
Dramatically reduces the time required to clean a ? Reduces water consumption required to clean the cartridge by more than 50%, eliminates the spray back of contaminated water onto the person cleaning the cartridge. Greatly reduces the hassle involved attempting to open cartridge pleats for a thorough and deep clean. Ensure garden hose connection is tight and secure. A loose garden hose connection will cause consumers to incorrectly assume the product is leaking.
Works best with good garden hose pressure and in conjunction with a cartridge degreaser. Important note regarding water-wand cleaner perfomance. Fun time rec supply is aware of some of our cusotmers' issues with water leakage in their water wands. We understand the unit does not leak from the connection but rather the seams of the unit. This is due to an unsound connection. The way the unit works is the water flow from the hose funnels to a small manifold in the waterwand. If the connection is not 100% properly seated in the handle connection, the water pressure does not get 100% diversion into the manifold and thus leaks in the unit. From our experience the issue is with some hose ends that are brass. There is enough tolerance in the threads that they may flex and not seat perfectly in the ww connection handle thus causing the aforementioned leak in the unit (not the connection). We have run into this before but the good news is there is a solution to this leaking issue. For some reason or another, certain brass ended hoses will not seat properly in the waterwand's threads causing leakage at the units' seams, on/off switch, etc. The solution is to use the included male "speed fitting" and a female "speed fitting" (not included) to fix the spraying issue. The female speed adapter threads on to the end of your hose (please make sure a new and properly seated gasket is present), and the male speed adapter included with the waterwand threads onto the waterwand handle. Connect the fittings and this fixes the leaking issue. If you have leaking issues please entertain this solution, we believe you will be pleased with the waterwand cleaning performance and it will be easy to take on/off the waterwand from the hose with the speed fittings. We have found the female "speed fitting" adaptors as a brand called orbit. They are called "plastic quick connect set" and run under $3.00 at wal-mart or home improvement stores. Another alternative we have found works is a hose with a plastic "mender" style male hose end. We have tested on a length of hose with the brass end cut off and a plastic male threaded head attached. The leaking and pressure loss was immediately resolved. Our belief is the plastic threads do not compress and warp sightly when tightened in the waterwand handle. This is our experience with the unit. We know using the speed fitting works. Tightening works maybe 10% of the time, over-tightening will make leaking worse generally. Water-wand cartridge cleaner technical bulletin. We have received a number of enquiries from customers purchasing the new water-wand cartridge filter. Cleaner in relation to concerns over the product leaking from various points on the outer housing. In almost every instance, this problem is the result of the garden hose not being correctly fitted to the unit. The outer housing of the water-wand does not carry any water flow or water pressure. It is therefore highly. Unlikely that a leak in the product itself will develop here. The water is carried through a tube that runs up. The inside of the housing. If the garden hose is not firmly secured to the product's garden hose connector, water will leak into the. Housing and out the various seams and openings. This problem is simply resolved by tightening up the. Many garden hoses and their associated fittings vary in style. If you are having difficulty as a result of this. The use of an additional hose washer may help provide a perfect seal.The item "Water-Wand Pool Spa Cartridge Filter Cleaner CWS186 Free Shipping Brand New" is in sale since Friday, August 22, 2014. This item is in the category "Home & Garden\Yard, Garden & Outdoor Living\Pools & Spas\Pool Parts & Maintenance\Pool Filters". The seller is "funtimerecsupplyusa" and is located in Midwest.
This item can be shipped to United States.
Comments Off
June 30th, 2014 Posted 6:25 am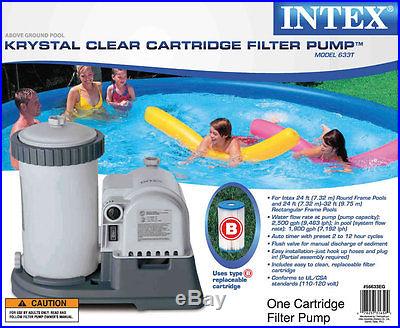 Intex krystal clear 2,500 gallon pool filter pump 28633eg description. The intex 2,500 gph filter pump provides efficient pool filtration for intex 16 to 32 foot pools and is essential for krystal clear pool water. Who wants to swim in dirty pool water? A built-in 24 hour timer will make pool maintenance a breeze. Simple preset your pool filter to one of the 2 to 12 hour filtering cycles and your pool will automatically clean itself every day at the same time.
You'll have super clean pool water even while you are away on vacation! Installation of the intex model 633 / 634t filter is easy, just hook-up the hoses, plug it in and go. All the hoses and clamps needed to install the intex 2,500 gallon filter pump to your pool are included as well as one pre-installed type b filter cartridge.
This high volume 1/2 hp pool filter pumps 2,500 gallons of water per hour which will provide fast filtration for all large intex pools with 1-1/2 inch filter hoses with threaded connections. Fits intex 18 foot easy set pools, 18 – 24 foot metal frame pools, 20 x 12 foot or larger oval frame pools, and all intex ultra frame round and rectangular pools. This filter pump is a perfect replacement for the 1,500 gph filter pump because it will filter your pool in half the time. Add a case (6 pack) of type b filter cartridges and you'll have enough replacement filters for the whole summer.
Intex 2500 gallon filter pump. Specs of intex model 633 / 634t pool filter pump 28633eg – krystal clear 2500 gph filter pump. Intex krystal clear filter pump model 633 /634t.
High volume 1/2 hp motor pumps 2,500 gallons of water an hour. Includes built-in timer – automatically cleans your pool everyday plus you'll save energy and extend filter pump life. Includes all hoses and clamps need to install to your pool with 1.5 inch hose fittings.
Fits all intex ultra frame round and rectangular pools. Fits all intex easy set and metal frame pools 18 feet or larger.
Perfect replacement pump for the 1,500 gph filter pump where an upgrade to a larger pump would make pool filtering faster. Easy installation just hook-up hoses, plug it in and go. Includes all hoses and clamps needed to install to your pool. Includes 1 pre-installed type b filter cartridge. Optional upgrade – six replacement type b filter cartridges.
Air release valve for air trapped inside filter chamber. Sediment flush valve at bottom of filter chamber. Includes gfci breaker (ground fault circuit interrupter) that quickly shuts off the electricity to prevent electrical shocks. Replacement pump for intex krystal clear models 51, 520, 520r, 58621, 56631 and 56633. How often do i have to replace the filter cartridge on the 2500 pool filter pump?


Depending on usage and water conditions, it is recommended that the cartridges be replaced at a minimum of 2 week intervals. The filter cartridge should be removed and checked at least once a week. It can be partially cleaned by rinsing off with a garden hose and brush. If it still appears to be dirty, it should be replaced immediately. Can i use another brand of cartridge? A brand other than intex may not fit correctly, thereby not filtering the water properly. What is the life of the 2500 pool filter pump? Estimated filter pump life is approximately 2,000 hours, which is about 3 summer seasons of normal usage.
What is your suggestion on 2500 pool filter pump maintenance? Occasionally, petroleum jelly may be applied to the "o-ring" located underneath the top filter cover to minimize seal cracking. Check hoses for leaks and replace if needed. Also make sure you've cleaned or replaced filter cartridges as recommended in the owners manual. Can we use the pool while the 2500 pool filter pump is operating? No, due to various local, state, national and international standards, the filter pump is not to be operating if pool is in use and/or occupied, although it is safe and has complied with ul, csa, etl, and en safety standards. View more frequently asked questions. Ups cannot deliver to those addresses.

About us: who is porter-10. Our customer service team also helps to quickly answer any of your questions or concerns you might have.

The item "Brand New Intex 2500 gph Filter Pump & hoses for Above Ground Swimming Pools" is in sale since Tuesday, July 30, 2013. This item is in the category "Home & Garden\Yard, Garden & Outdoor Living\Pools & Spas\Pool Parts & Maintenance\Pool Filters". The seller is "foxwebstores" and is located in Boise, Idaho. This item can only be shipped to United States.